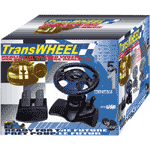 • HARDWARE REVIEW (Game) •
Manufacturer: Valgear Released: 9/1/2003

While certainly not the finest quality steering wheel out there, for its price (roughly $40) the Valgear USB-V8 Steering Wheel offers enough features to make it a good entry into the steering wheel market.
Featuring vibration feedback, a D-pad and a plethora of buttons, 2 trigger buttons under the wheel, a gear shifter, and gas and brake pedals, the USB-V8 offers a huge array of options in terms of control. Games such as The Simpsons Hit and Run benefit from the ability to switch from the steering wheel while driving to the D-pad (directional pad) when the characters are walking and running.
Although the construction is lightweight, and the gear shifter seems especially flimsy, overall the wheel and pedals withstood substantial testing and limited abuse. The wheel itself is simply spring-loaded and returns to center position while offering little resistance. The vibration affect is acceptable but not spectacular.
Although there are other options that are certainly more solid or offer more realistic feedback (including force feedback, which this model does not offer), the USB-V8 is usable if realism is not of the utmost importance.
More Recent Reviews...
• Game •
- WingMan Rumblepad
When my cosmopolitan brother came to town at Christmas and managed to pick up a highly sought-after ... More...