Recent Reviews
• Alternative Music •
Everclear - In A Different Light Read it

• CD Music •
The Bushpilots - Seven Ways To Broadway Read it

• Live Music •
Craig Cardiff, Matthew Barber, Julie Fader - Live at Black Sheep Inn, Wakefield Quebec Read it

• Live Music •
The Pogues - Live at Roseland Ballroom, New York NY USA Read it

• Live Music •
Jim Bryson, Justin Rutledge - Live at the Black Sheep Inn, Wakefield QC Read it

• Live Music •
Jane Siberry - Live at Bronson Centre, Ottawa, ON Canada Read it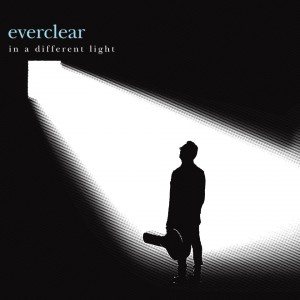 Everclear's new album "In A Different Light" is not a cover of The Bangles' 1986 album "Different Light". One could only hope. It does, however, purport to show the band in, well, a different light, by covering previously released Everclear songs. If replacing an occasional guitar part with the same part played on a Hammond organ, and replacing an occasional electric guitar intro with the same thing played on acoustic guitar, constitutes "a different light" then... mission accomplished. But perhaps "In An Almost Imperceptably Different Hue" would be a more appropriate album title.

Everclear's best-known lineup, consisting of Art Alexakis, bassist Craig Montoya and drummer Greg Eklund, spawned several albums and many anthemic rock nuggets including "Santa Monica", "Everything To Everyone", "Father Of Mine", "Wonderful", and "AM Radio" (a notable omission from this album, probably because it is so dependent on production and samples for its impact). This lineup dissolved in 2003 and it seems Alexakis has had a hard time keeping things together since. While "In A Different Light" could have been an indication that he has now assembled a solid backing band with which to record new material, all of the musicians on the album quit, shortly before the album's release. What remains is a snapshot of rehearsals with band members who have all left to pursue other interests.

Ultimately the question that comes to mind is, "What's the point?" The album is "unplugged" enough to be unplugged, isn't "live" enough to be live, and isn't different enough to be significant. Just when a song hints at being different with an acoustic guitar intro, the bombastic drums and bass come in and any difference gets buried in the mix.

For the hard-core fan, these just-slightly-different versions might be of interest. For anyone else, stick with the versions you've already got (or which are available on the original albums and greatest-hits compilations) and hope for some new material from the new new new Everclear in 2010.
More Recent Reviews...
• CD •
The Bushpilots - Seven Ways To Broadway
One of the biggest challenges faced by a rock band is duplicating their live energy in a recording, ... More...

• Live •
Craig Cardiff, Matthew Barber, Julie Fader - Live at Black Sheep Inn, Wakefield Quebec
The sleepy little village of Wakefield, Quebec, nestled in the Gatineau hills and hugging the river ... More...

• Live •
The Pogues - Live at Roseland Ballroom, New York NY USA
The Pogues
Thursday, March 15, 2007
Roseland Ballroom
New York, NY USA
Wednesda... More...

• Live •
Jim Bryson, Justin Rutledge - Live at the Black Sheep Inn, Wakefield QC
After almost a year absent from the Ottawa scene touring as Kathleen Edwards' guitarist/keyboard pla... More...

• Live •
Jane Siberry - Live at Bronson Centre, Ottawa, ON Canada
Jane's current "Tootie" tour is a stripped-down, intimate affair wherein she alternates between guit... More...