Recent Reviews
• Music Movie •
Big Star: Nothing Can Hurt Me - Read it

• Music Movie •
20 Feet From Stardom - Read it

• Sci-Fi Movie •
Avatar - Read it

• Alternative Music •
Everclear - In A Different Light Read it

• CD Music •
The Bushpilots - Seven Ways To Broadway Read it

• Live Music •
Craig Cardiff, Matthew Barber, Julie Fader - Live at Black Sheep Inn, Wakefield Quebec Read it

• Drama Movie •
Capote - Read it

• Drama Movie •
Brokeback Mountain - Read it

• Drama Movie •
Syriana - Read it

• Live Music •
Jim Bryson, Justin Rutledge - Live at the Black Sheep Inn, Wakefield QC Read it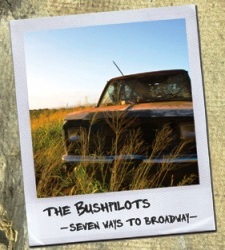 • MUSIC REVIEW (CD) •
The Bushpilots
Seven Ways To Broadway
Released: 10/1/2009

One of the biggest challenges faced by a rock band is duplicating their live energy in a recording, and successfully balancing the sheen of the studio with the rough edges of a live performance. The Bushpilots put on a frantic, high-energy show and play every song like it could be their last. Luckily for them (and listeners), they have managed to capture that energy perfectly on their latest shiny plastic disc, Seven Ways To Broadway. Recorded at Ottawa's iconic Little Bullhorn Studio (Jim Bryson, Kathleen Edwards, et al) by Dave Draves, whose credits are innumerable, the album is clean enough to showcase the songs while still murky enough to leave a little to the imagination, demanding some work from the listener and offering some sonic surprises as a reward.

From the opening track, it's clear that this "ain't no easy listening music". Those who fear brash, ringing guitars and ragged, desperate vocals need not apply. But those looking for an unabashed rock and roll backing track for their next road trip, house party or post-shinny warm-up with a few pints will be well-advised to consider this collection. Singer Rob Bennett wears his influences on his worn denim sleeves as everything from Crazy Horse-era Neil Young to early Stones to even a little Jail Guitar Doors Clash sweats through the dense fibers of the songs the band swathes itself in.

The title track opens like a country-fried Ballroom Blitz sprinkled with honky tonk piano and Hammond B3 courtesy of man-about-town Tom Pechloff, and the album barely takes a breather except to let in a few mariachi horns on "I Know You Got Nowhere To Go", just after the mid-point. Shades of Van Morrison in the anthemic Rock N Roll Radio, hints of early Kinks and Replacements, and occasional meandering into musical fields sowed by contemporaries like Gin Blossoms, Tom Petty and Black Crowes make for a potent brew. The smattering of horns and guest appearances by other Ottawa artists including Jerusha Levis and Maureen Hogan (Good2Go) on a few tunes keep things from getting too sonically predictable. The album closes with a version of Gram Parsons' Sin City that starts out around a piano like a less sober Million Dollar Quartet, but quickly kicks into gear and closes the album in distortion-laden sing-along that surely has Parsons turning in his grave (although he is probably just trying to mosh).

Check them out live, then pick up this disc to relive the experience in the privacy of your own mind. Or home.

PS if they ever do a biopic on Gene Simmons of KISS fame, Bushpilots bass player Jeff Monette is a shoo-in for the part of "young Gene".
Tasty Tidbits...

• Music •
Big Star: Nothing Can Hurt Me (Big Star)
You may not think you know Big Star. But you know that song that was used as the theme of That 70's ... More...

• Music •
20 Feet From Stardom (Various Artists)
Another in a series of "give the backup performers their due" documentaries (see also Standing In Th... More...

• Sci-Fi •
Avatar (Sigourney Weaver, Giovanni Ribisi, Sam Worthington)
Call the police! Someone stole my folder of creative writing from grade 6 English class, which inclu... More...

• Alternative •
Everclear - In A Different Light
Everclear's new album "In A Different Light" is not a cover of The Bangles' 1986 album "Different Li... More...