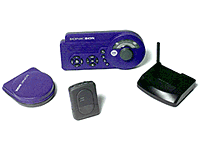 • HARDWARE REVIEW (MP3) •
Manufacturer: SonicBox Released: 6/1/2000

The SonicBox IM Remote Tuner attacks an interesting problem: most people have access to MP3's and a plethora of Internet radio stations on their PC, yet they tend to listen to pre-recorded music and the radio on their stereo through its much-superior speakers and amplification. So how does one bring the two together? SonicBox has the solution.
Though somewhat daunting in terms of the number of connections required, the Sonicbox IM Remote Tuner does the trick. Here is the basic setup:
1. you connect the audio transmitter to the line-out jack on your sound card and plug it in to the wall with the AC adapter.
2. you connect the remote receiver to a USB jack of your computer
3. you connect the audio receiver to the audio input jacks of your stereo somewhere else in the house
If all goes well you can then play MP3's or Internet radio stations on your PC and have them come out your stereo. This can come in very handy, for example if you want to set up a huge mix of MP3's for a party and don't want to burn all the songs to CD-R's. Next add in the Remote Tuner portion (with its retro styling as shown in the photo). Now you can change Internet radio channels from your living room, all via the magic of 900Mhz radio frequencies. If you don't want the "swishy" underwater sound of poor-quality streaming radio then you'll want a fast (e.g. cable or DSL) internet connection and you'll have to track down some high-quality streaming audio. But regardless of your internet connection speed, the MP3 playback is in itself very handy.
What about sound quality? The sound quality of the transmission from your PC to stereo is great: there was no perceptable change in the quality of the music, no hiss was added and there was plenty of volume. And obviously SonicBox spent some time on the design and took care of the little details, for example the audio receiver unit (which attaches to your stereo), though battery-powered, can be recharged by simply connecting it to the base unit with the supplied cable (even the rechargeable batteries were supplied with our review unit). And, using battery power and a pair of headphones, the receiver unit doubles as a wireless Internet radio Walkman when disconnected from your stereo and clipped on your belt. And the styling is pretty retro-cool.
All in all a well-designed product which admirably bridges the gap between PC and stereo audio enjoyment.
Tasty Tidbits...

• Music •
Big Star: Nothing Can Hurt Me (Big Star)
You may not think you know Big Star. But you know that song that was used as the theme of That 70's ... More...

• Music •
20 Feet From Stardom (Various Artists)
Another in a series of "give the backup performers their due" documentaries (see also Standing In Th... More...

• Sci-Fi •
Avatar (Sigourney Weaver, Giovanni Ribisi, Sam Worthington)
Call the police! Someone stole my folder of creative writing from grade 6 English class, which inclu... More...

• Alternative •
Everclear - In A Different Light
Everclear's new album "In A Different Light" is not a cover of The Bangles' 1986 album "Different Li... More...

• CD •
The Bushpilots - Seven Ways To Broadway
One of the biggest challenges faced by a rock band is duplicating their live energy in a recording, ... More...