• Cisco Systems Bluesfest 2005 Presents Stellar Lineup •
Cisco Systems Bluesfest 2005 - Ottawa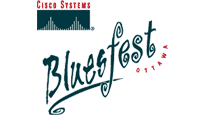 This year marks the 12th anniversary of the Cisco Systems Bluesfest in Ottawa, the largest festival of its kind in Canada. Previous years have featured such greats as Sting, John Hiatt, Buddy Guy, Dr. John, Ray Charles, Smokey Robinson, James Brown, George Thoroughgood, Blue Rodeo, The Tragically Hip, Melissa Etheridge, and countless more. This year once again presents one of the most astounding group of artists to grace the same stage anywhere in the world and as usual affirms the Bluesfest commitment to entertainment of world-class quality and variety. For the full schedule visit the Bluesfest site. Featuring everything from the blues-rock of ZZ Top to the bombast of Kid Rock and the revival of the New York Dolls, the festival offers something for everyone over its 10-day run. Below are some details on some of the diverse headliners who will grace the stage July 7 to 17, 2005 in Ottawa.
WAR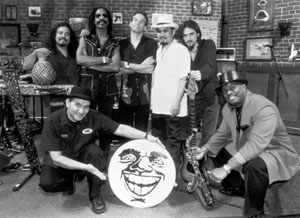 One of the most popular funk groups of the '70s, WAR is a crossover phenomenon that finally and forever fused rock, jazz, Latin and R&B. War's lyrics are sometimes political in nature (in keeping with their racially integrated lineup), but their music almost always has a sunny, laid-back vibe emblematic of their Southern California roots.War keeps the groove loose and their sets feature extended jamming — in fact, many of their studio songs were edited together out of longer improvisations, demonstrating War's truly group-minded approach; no one soloist or vocalist really stands above the others (even though all are clearly talented). Their grooving interplay places War in the top echelon of funk ensembles. Appropriately, it's a new street music - rap and hip-hop – that's reintroduced WAR into mainstream music. WAR's grooves are being sampled by many artists, and songs such as 'Slippin' Into Darkness', 'The Cisco Kid', and 'Low Rider' are being discovered by a new audience. WAR reaches into the soul and moves people. Let them move you on opening night of Bluesfest!
The Black Eyed Peas
Ever since they were a fledgling group in the environs of Los Angeles, The Black Eyed Peas have flaunted a passionate, energetic hip-hop spirit people have always been drawn to. They've earned fans worldwide with their inventive approach to hip-hop music, inspiring people with loose rhymes, and a positive spirit and funkafied vibe. On Elephunk, the group's third album, that spirit seems to course through their beings even more than ever. The Black Eyed Peas – will.i.am, apl.de.ap, Taboo and newcomer Fergie – named the album Elephunk to conjure up a big, deep funk sound. Produced in its entirety by will.i.am and apl, the album boasts a mix of live instruments and traditional hip-hop samples and beats. It also mixes the group's breathless verbal acrobatics with a very conscious view of the world. THE BLACK EYED PEAS NEW ALBUM "MONKEY BUSINESS" HITS STORES JUNE 7th 2005!!
Daniel Lanois
Called "the most important record producer to emerge in the eighties," by Rolling Stone magazine, Daniel Lanois has drawn kudos for his work with U2, Peter Gabriel, and Bob Dylan. Like his sometime collaborator Brian Eno, Lanois has shown a flair for delicate, atmospheric touches—both in producing material for other musicians and in his own projects as a composer and recording artist. Stressing emotional vibrancy over the technical aspects of making albums, Lanois has recorded in such unlikely settings as castles and dairy barns in his efforts to elicit honest, spontaneous performances. The results of this visceral approach have ranged from the soaring intensity of his Grammy-winning co-production (with Eno) of U2's 'The Joshua Tree' to the moody, understated passion of Lanois' solo efforts.
K-Os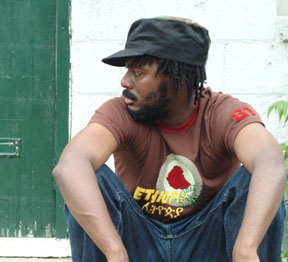 Raised by Jehovah's Witness parents in locales as disparate as Toronto and Trinidad, it was no surprise that Kheaven Brereton, aka K-Os (pronounced: chaos) was a bit different than your average MC. A singer as well as a rhymer, and a producer to boot, K-Os proved on his debut album Exit (Astralwerks, 2002) that being preachy didn't have to mean being boring. The LP stood out dramatically with lush, instrument-driven arrangements to go with the traditional hip-hop elements of drum programming, samples, and the like. Acoustic guitar and piano marked the single "Heaven Only Knows"; dub and reggae influences tinged "Freeze." Many of the tracks found the rapper singing, so much so that an argument could be raised about the genre to which K-Os in fact belonged. And that was just the way he liked it. A tour to support Exit stretched from late 2002 through summer 2003; the dates saw K-Os performing with such hip-hop luminaries as India.Arie and Floetry. Exit went on to pick up International Album of the Year at the 2003 Source Awards. K-Os returned in September '04 with the equally ambitious Joyful Rebellion.
Simple Plan
Simple Plan couldn't care less about people's opinions of them. Simple Plan have spent the last year channeling their energy, positivity and, yes, sometimes frustration, into their music. And no matter how you want to label their music, the 11 songs on the band's highly anticipated second album, 'Still Not Getting Any' proves that SP are not a punk band, a pop band, a rock band or whatever label you can come up with; they are just a great band, a band that strives to write great songs and put on a hell of a show!
Admittedly, a lot has happened since the Montreal, Canada band—vocalist Pierre Bouvier, drummer Chuck Comeau, bassist David Desrosiers and guitarists Sebastien Lefebvre and Jeff Stinco—released 'No Pads, No Helmets, Just Balls' in the spring of 2002. Aside from selling a couple of million albums, the group have shared the stage with everyone from Rancid to Aerosmith, made appearances on the Vans Warped Tour for three years running (two as Headliners), and been nominated for four MTV Video Music Awards; not bad for five kids who used to tour in their parents' station wagon.
ZZ Top
This sturdy American blues-rock trio from Texas gained international attention with the hit 'La Grange', a signature riff tune to this day, based on John Lee Hooker's 'Boogie Chillen'. They have since successfully harnessed the potential of synthesizers to their patented grungy blues-groove, giving their material a more contemporary edge while retaining their patented Texas style. Sporting long beards, golf hats, and boiler suits, they've met the video age head-on, elevating their status to that of music icons.
Becoming even more popular in recent years, they've moved with the times while simultaneously bucking every trend that crossed their path. As genuine roots musicians, they have few peers. The only rock & roll group that's out there with its original members still aboard after three decades, ZZ Top's music is always instantly recognizable, eminently powerful, and profoundly soulful. ZZ Top's support and link to the blues remains as rock solid as the music they play. Michael Franti & Spearhead
In nearly two decades in music making, Michael Franti has grown from a black-booted voice of youthful rage into a barefoot clarion for social justice. In 1986, Franti formed the Beatnigs, whose black industrial sound deconstructed punk rock and Reaganism with a leather-jacketed "No!" to militarism, racism, and compromise. By 1992, Franti and Beatnig member Rono Tse became the Disposable Heroes of Hiphoprisy with multi-instrumentalist Charlie Hunter (who has since become a renowned jazz guitarist). Their album Hypocrisy Is The Greatest Luxury delivered assaulting Public Enemy-inspired beats and rhymes, but also offered naked songs like the self-probing 'Socio-Genetic Experiment' and the movement-mantric 'Music and Politics'. Franti has toured with U2, recorded with William Burroughs, and is a protest music icon.
His next step defied expectations. In 1994, he signed to Capitol Records for his new band, Spearhead, and dove headfirst into his blackness, mixing up Mayfield and Marley, Scott-Heron and Scarface on hits like 'Hole In The Bucket', 'People In the Middle', and 'Ganja Babe'. 'Home' and 'Chocolate Supa Highway' sold hundreds of thousands of copies and Spearhead became a worldwide phenomenon.
India.Arie
"India.Arie is the manifestation of everything that good, honest music should be about: real talent, real emotion and real soul." Why we like her – from Askmen.com India.Arie often explains that she put a dot in her name to make it recognizable, a trademark of sorts. But since the release of her Motown debut Acoustic Soul, this artist's true signature has emerged unmistakably—honest, unpretentious and deeply affecting music. Combining rich melody, warmly enveloping vocals, natural instrumental textures, and a simply stated yet profoundly powerful message—"love yourself"—India.Arie has drawn a legion of fans who find themselves not only entertained, but encouraged, warmed, and even changed by her music.
VOYAGE TO INDIA presents another set of nuanced and deeply heartfelt songs to follow the platinum-plus success of her first album. "In hindsight, I think my first album was about being grateful that I had arrived at a certain point in my life and career," says India.Arie. "The second one's all about growth. It's called VOYAGE TO INDIA, because it's about my emotional and spiritual journey. And I'm still in the middle of this transition."
Kid Rock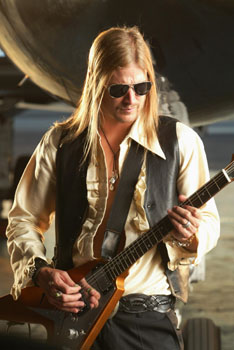 In 1998, Kid Rock unleashed his major label debut, the classic 'DEVIL WITHOUT A CAUSE'. The album went on to be Diamond Award certified by the RIAA for more than 10,000,000 sold.
2000 saw the release of 'THE HISTORY OF ROCK', a specially assembled compilation comprised of previously unreleased recordings such as the Grammy Award-nominated single, 'American Bad Ass', as well as remixed and reworked tracks from Kid Rock's long-unavailable early works. The collection made its chart debut at #2 on the Billboard album chart, en route to triple platinum certification by the RIAA for sales in excess of 3,000,000.
Rock's next magnum opus, the acclaimed 'COCKY', was released in November 2001. Recorded in Detroit at Kid Rock's Clarkston Chophouse studio, the album includes such larger-than-life arena anthems as 'Forever', 'What I Learned Out On The Road', 'Lonely Road of Faith', and the sensational Top Ten duet with Sheryl Crow, 'Picture'.
An inveterate road warrior, Kid Rock has earned a reputation as one of hardest working performers in rock n' roll, blowing the roofs off of theatres, arenas, and enormodomes on countless cross-country tours, not to mention treks around the globe. Since breaking out with 'DEVIL WITHOUT A CAUSE', Rock has been the recipient of a wide assortment of honours, including multiple Grammy Award nominations. He's taken home a Billboard Music Video Award and "Favorite Male Pop/Rock" honours from the American Music Awards.
John Prine
The New York Dolls created punk Prine, a former mail carrier from Chicago, burst onto the national folk scene in the early 1970s performing original melodies and lyrics that poetically sketched the lives of grass-roots, working-class Americans. His 1971 debut album, 'John Prine', was widely praised by critics, and he has since recorded several albums that have secured his reputation as a distinctly gifted storytelling songwriter. In 1979, Prine's 'Pink Cadillac' was released and, according to Robert Palmer in the New York Times, represented "Prine's masterpiece to date; displaying a stronger rock and roll sound than Prine's previous albums." Since 1980, Prine has released several albums with Los Angeles-based Oh Boy Records, including 1986's well-received 'German Afternoons'. In 1988, Prine was part of a successful tour which paired him with folk-country singer Nanci Griffith. His 1989 double-album, 'John Prine Live', gives "a virtual career retrospective" of his work from the 1970s through 1980s.
New York Dolls
The New York Dolls created punk rock before there was a term for it. Building on the Rolling Stones' dirty rock & roll, Mick Jagger's androgyny, girl group pop, the glam rock of David Bowie and T. Rex, and the Stooges' anarchic noise, the New York Dolls created a new form of hard rock that presaged both punk rock and heavy metal. Their drug-fueled performances influenced a generation of musicians in New York and London, and many of them went on to form punk bands. The band's two albums remain among the most popular cult records in rock & roll history. In 2004, former Smiths vocalist Morrissey - who was once the president of a British New York Dolls fan club - invited the surviving members of the New York Dolls to perform at the 2004 Meltown Festival, a music festival that was being curated by the singer. The group's set was so well received by critics and fans it led to numerous offers for other festival appearances; like this one at Bluesfest. What a blast!
| | |
| --- | --- |
| | |
Tasty Tidbits...
Even "Modern Rock" Is Not Immune to the One-Hit Wonder Curse
The One-Hit Wonder: An Ongoing Concern... Read More

Canadian Tulip Festival Concert Series
Ottawa Tulip Festival features The Trews, Trooper, Xavier Rudd, Stephen Fearing, Pilate, Rise Ashen, Oh Susanna, The Dears and lots more!... Read More

Billy Corgan: Smashing Pumpkins to reunite?
Billy Corgan bares his soul in a full-page ad in today's Chicago Tribune... Read More

Canadian Tulip Festival Concert Series
Ottawa Tulip Festival features Tea Party, David Wilcox, Ron Sexsmith, Sarah Harmer and many more!... Read More